The AHEAD Asia 2021 winners have been announced.

The winners webcast was broadcast live via the AHEAD website yesterday, held in association with Global Founder Sponsor, RH Contract.
Watch the entire webcast here.
After a successful MEA event in Dubai last week, AHEAD, the Awards for Hospitality Experience and Design, has now revealed its Asia 2021 winners during a virtual award ceremony. Aman Kyoto won the prestigious 'AHEAD Asia Hotel of the Year' award, as well as an award for best Resort.
Lijiang Hylla Vintage Hotel won three awards including the "New Concept" Award. Japanese hotels were particularly successful with Hotel K5 Tokyo and Park Hyatt Niseko Hanazono winning awards as well as Aman Kyoto.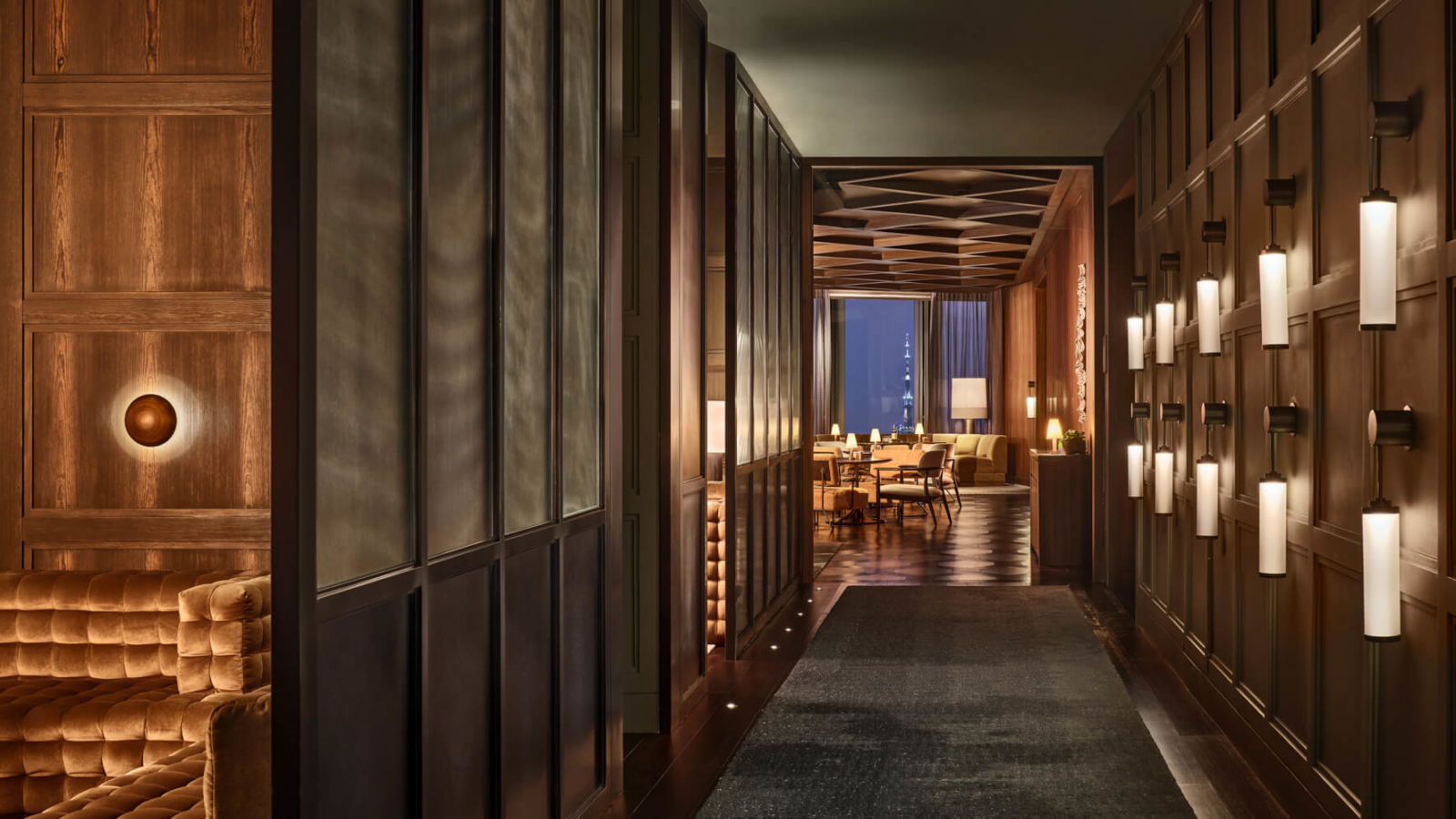 B A R, C L U B O R L O U N G E
Too High – Rosewood Guangzhou
China

As the name suggests, 'Too High' is the highest bar in all of Guangzhou. It offers staggering views from the 107th floor of the Rosewood Guangzhou and unparalleled service to match. The judges applauded its designers on the overall design praising its "rich and handsome design, residential quality and exquisite details," saying the project was right on brand for Rosewood.
E V E N T S P A C E S

Capella Bangkok - Thailand

The Capella Bangkok plays the host to the City of Angels' most memorable events, meetings, and special occasions. The resort's venues all enjoy the river views, five-star planning services and unmatched catering options. As one of our judges commented, "it feels like a blank canvas which is a requirement for event spaces, so that hosts can make the space their own."
G U E S T R O O M S

Zannier Hotels Bãi San Hô - Vietnam

Zannier Hotels Bãi San Hô sits on a secluded peninsula of the Phu Yen province. Guests can choose from a collection of 73 free-standing villas that "demonstrate a true commitment to the local in the rooms' use of authentically local materials and finishes - and in the different room typologies inspired by diverse vernacular styles.You want to inhabit these spaces and feel the walls."
H O T E L C O N V E R S I O N

Hotel K5 Tokyo
Japan

A building with incredible history, this old bank has been injected "with a whole new lease of life and purpose." The judges agreed that it has a "quirky and fresh" vibe and oozes "originality in a self-assured and self-contained package of hospitality that embraces and truly celebrates the original building it inhabits."
H O T E L N E W B U I L D

Lijiang Hylla Vintage Hotel
China

This stunning hotel can be found under the snow-capped mountains of Lijiang within the ancient Naxi kingdom. It cleverly links its past with a forward-thinking philosophy with a particular focus on a natural and sustainable approach to mountain resorts. The judges described this new build project as "absolute original, dreamy, nothing like it in Mainland China."
H O T E L R E N O V A T I O N & R E S T O R A T I O N
The Chow Kit – An Ormond Hotel
Malaysia

A perfect mix of contemporary and traditional elements, The Chow Kit is located within old Kuala Lumpur and nearby lively areas including Bukit Bintang and Petaling Street. The judges sung their praise for this hotel renovation, describing it as "an impressive transformation, that has infused the new perspective of a neighbourhood in rejuvenation, while maintaining elements of the regional cultural context."
L A N D S C A P I N G & O U T D O O R S P A C E S

Lijiang Hylla Vintage Hotel
China

Lijiang Hylla Vintage Hotel is 2,400m above sea level within a stunning mountainous landscape. The manmade elements blend in perfectly with the nature surrounding the hotel. Our judges felt that the project's success "rests on the manner in which it blurs the lines between the natural and constructed environments."

R E S O R T

Aman Kyoto
Japan

Built in a secret garden at the centre of a forest, Aman Kyoto seamlessly blends into its surrounding environment. The resort is a stone's throw away from 16 UNESCO World Heritage Sites as well as the golden Kinkaku-ji Temple. "This elegant resort with high sensitivity and respect to the environment, reflects the brand perfectly. The simplicity of the design harmoniously fits in with its surrounding environment," said the judges.
L O B B Y A N D P U B L I C S P A C E S

Park Hyatt Niseko Hanazono
Japan

The embodiment of personal luxury, the Park Hyatt Niseko Hanazono is situated in an incredible natural landscape with breathtaking views across the Annupuri ranges and Mount Yotei. The interior reflects the Hyatt brand, according to our judges whilst "the colour scheme and texture from natural materials creates a warm ambience for this ski resort."
R E S T A U R A N T

The Chinese National – Swissotel, Jakarta
Indonesia

Authentic Chinese cuisine meets world-class mixology at the Chinese National, located on level 7 of Swissotel Jakarta PIK Avenue. The restaurant's beautiful interiors exude an exceptional sense of intimacy in a sophisticated and stylish setting. The layout consists of different zones, allowing diners to enjoy a different dining experience each time they visit.

S P A & W E L L N E S S

Park Hyatt Niseko Hanazono
Japan

A 190m2 Signature Spa inclusive of four single and two double treatment rooms with private 'onsen' baths. Our judges said of this project, "it feels fresh and open, yet warm and intimate at the same time. The strong sense of relationship to the surrounding landscape and mountain views are very evident and the design feels like it has been framed around this stunning location."
S U I T E

Harbour House, Rosewood Hong Kong
Hong Kong

This stunning suite "bursting with personality and love of detail" sits on the 57th floor of the Rosewood Hong Kong overlooking Victoria Harbour. The premises includes two outdoor lap pools, a private gym, wraparound landscaped gardens and magnificent harbour views.
V I S U A L I D E N T I T Y

The Chow Kit – An Ormond Hotel
Malaysia

The visual identity of The Chow Kit is based on simplicity, editing out unnecessary, extravagant designs to focus on simplified luxury. The ambience of the hotel gives the traveler the sense of comfort, purpose and balance – allowing them to focus on what matters most.
N E W C O N C E P T
Lijiang Hylla Vintage Hotel
China

One of three awards for Lijiang Hylla Vintage Hotel at AHEAD Asia 2021, this Chinese hotel took home the New Concept Award with our judges describing it as, "A beautifully eclectic collection of furniture and dressing within interior architecture executed with strength and elegance. The interior presentation gracefully embraces the breath-taking locality.
A H E A D A S I A 2 0 2 1 H O T E L O F T H E Y E A R
Aman Kyoto
Japan

Our judges selected Aman Kyoto for the prestigious AHEAD Hotel of the Year Award Asia 2021 for its combination of flawless design and sensitivity to the surrounding UNESCO Heritage Sites. The panel described it as, "an exceptional creation that has embraced and enhanced the existing forest garden where it is located."