AHEAD, the Awards for Hospitality Experience and Design, has revealed its winners at Faena Forum, Miami.
A panel of judges comprising of leading hoteliers, architects, interior designers, consultants and industry commentators assessed entries on their aesthetic excellence, guest experience and commercial viability.

The event's theming took inspiration from Tropicalia; the revolutionary Brazilian counterculture formed in the 60s, with the host venue transformed with samba dancers, a capoeira performance and rainforest jungle influenced decor.
Matt Turner, founder of the AHEAD Awards, commented: "We were delighted to honour the best new hotels to have opened across the Americas throughout 2018. Our judges were impressed with the diversity, quality and creativity displayed across the winning projects. These winners will now progress to compete against the winners of the other regions through 2019-2020 for the next edition of AHEAD Global in 2021. We were also thrilled to honour the career of Rockwell Group founder David Rockwell with this year's Outstanding Contribution award".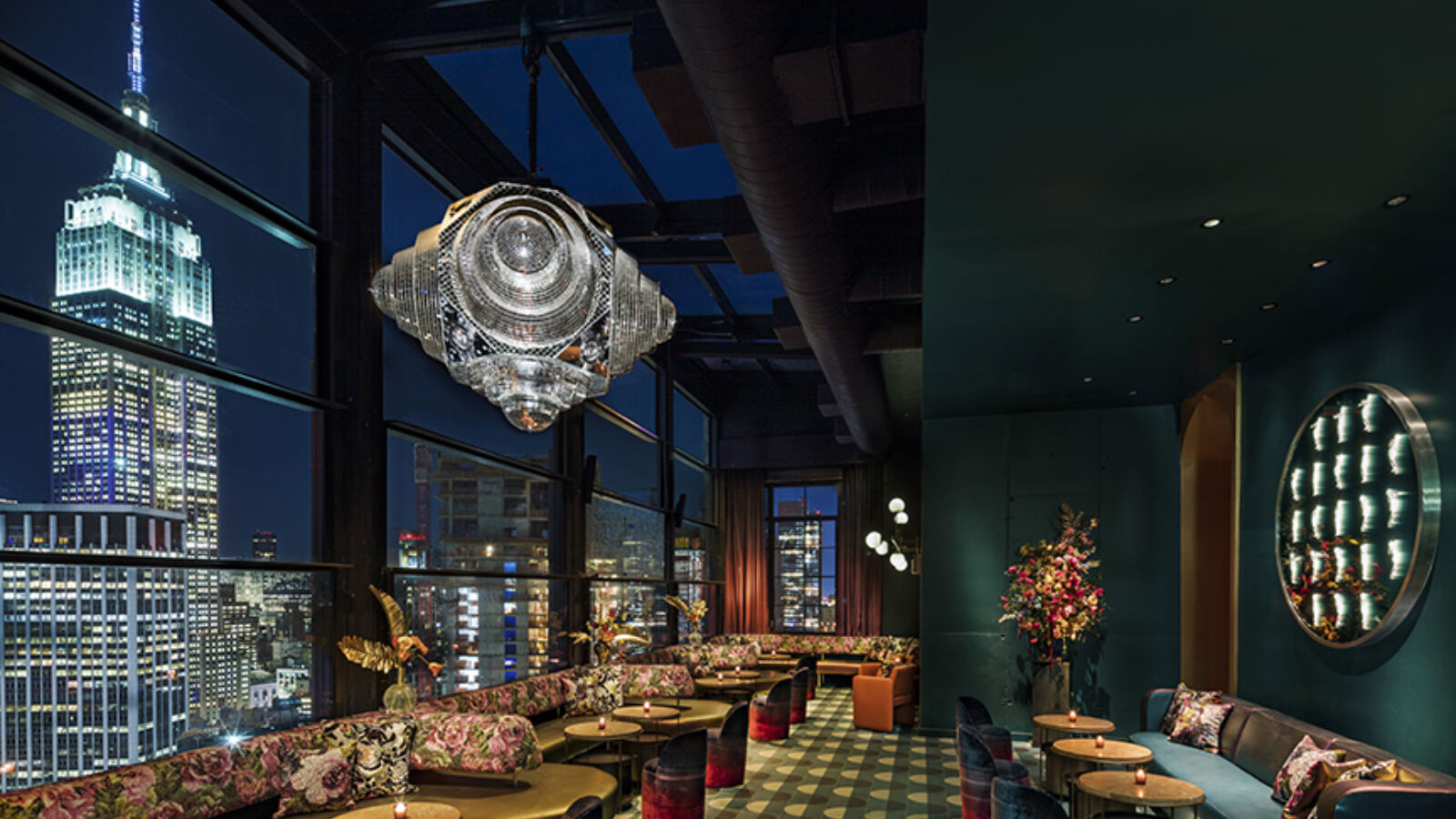 Bar, Club or Lounge
The Fleur Room at Moxy Chelsea
New York, USA
Rough concrete meets plush jewel-toned furnishings at the Rockwell Group-designed Fleur Room, where embedded florals reference the surrounding Garden District and subdued indirect lighting focuses attention on views towards the Empire State Building. "Awesome, a beautifully programmed and well-executed space, divided perfectly and with the theme integrated seamlessly."
Marriott International / Lightstone Group / TAO Group / Stonehill Taylor / Rockwell Group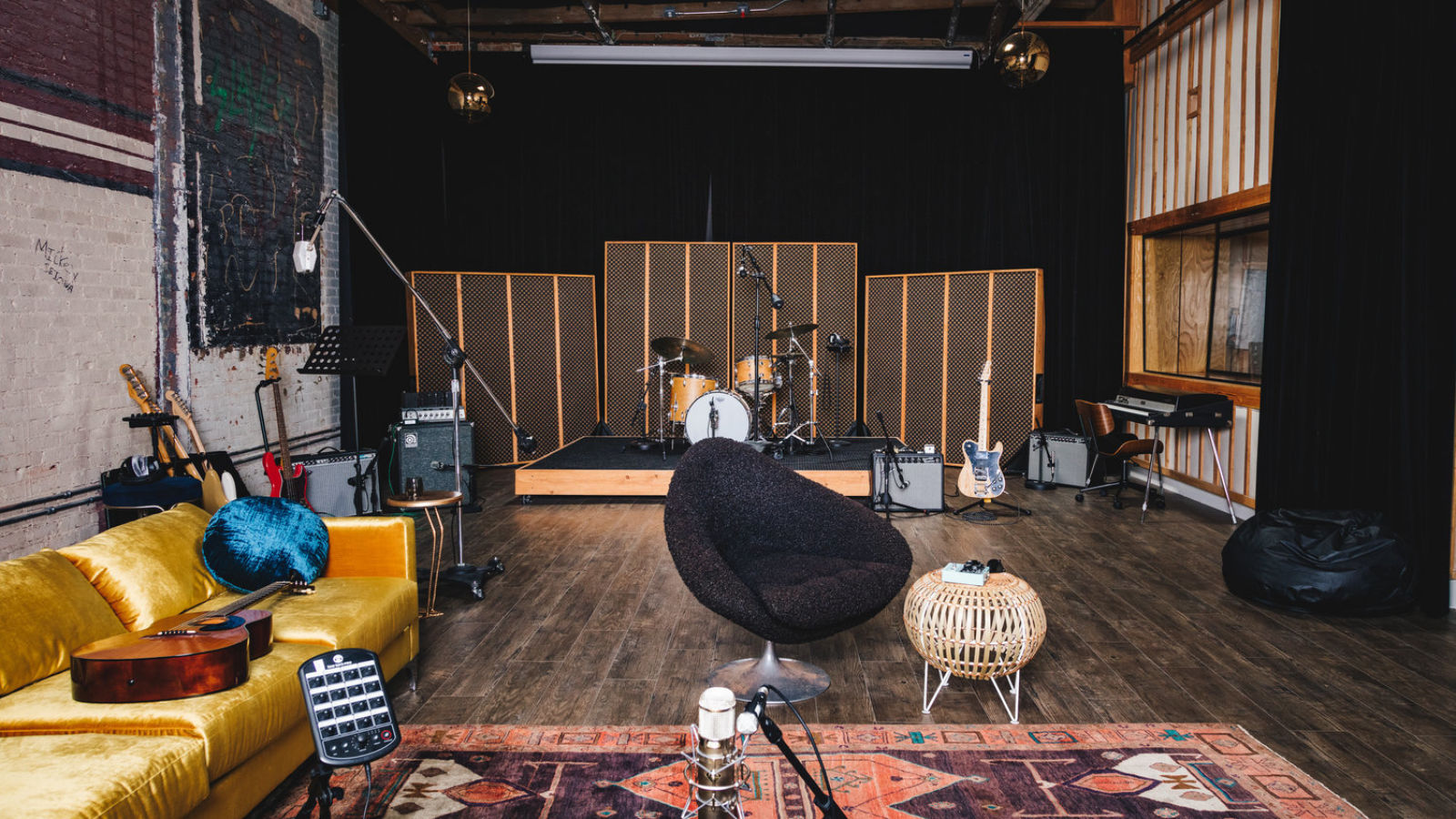 Event Spaces
Gold Diggers
Los Angeles, USA
Embodies a "Drink. Sleep. Record" concept with its dedicated king-size recording studio and Rock n' Roll dive bar. Gold Digger's audience of musicians, music fans, and design enthusiasts are provided a suitably creative environment. "A great use of the limited space, super out of the box and full of personality. It takes the meeting space in a new direction," judges mused.
Dave Neupert / Wick Architecture & Design / Night Palm Design / LAND Design Studio
Guestrooms
Gold Diggers
Los Angeles, USA
Featuring exposed painted brick, graphic wallpaper, bold colours, vintage end-cut wood tiles and artwork, Gold Digger's guestrooms draw inspiration from the Hollywood punk scene of the late 70s and for a series of accommodations indebted to counterculture. Judges noted that: "despite the quirky nature of the building, the rooms are very tastefully composed".
Dave Neupert / Wick Architecture & Design / Night Palm Design / LAND Design Studio
Hotel Conversion
The Siren Hotel
Detriot, USA
Thoughtfully preserving the Italian renaissance-style architecture, a series of The Siren's original features have been lovingly restored including travertine floors, original terracotta signage, and plaster detailing on the historic ceilings. Judges loved the bold approach, and the balance between new and old, commenting on the fantasy-esque nature of the property.
ASH NYC / Quinn Evans Architects
Hotel Newbuild
Solaz Los Cabos
Mexico
Celebrating the integration of landscape, architecture and art, the hotel's interior and exterior profile were created in harmony with the steeply sloping topography of the site. Judges praised the sensitive relationship between built form and natural foundation. "Solaz Los Cabos is what one craves in a luxury beach destination – careful in its approach to location and with a sense of intimacy despite its scale."
Marriott International / Sordo Madaleno Arquitectos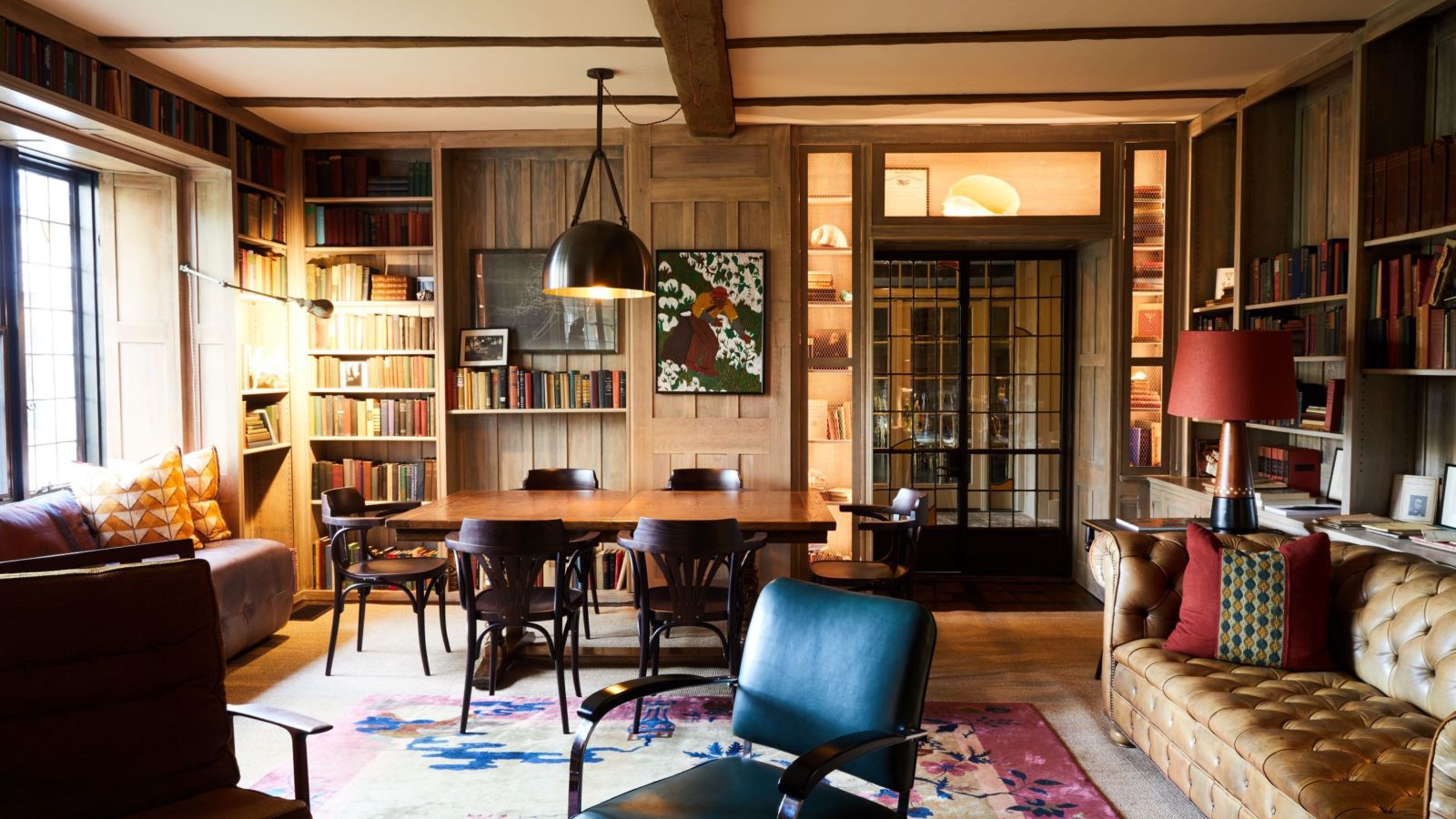 Hotel Renovation & Restoration
Troutbeck
Amenia, USA
Serving as an enchanting private estate, country inn and tavern since 1765, Troutbeck has now reimagined through the use of historic artefacts including relics and novels from Myron Benton, the home's original owner. A homely feel flows throughout for a rustic modern scheme full of careful interventions.. "A very strong renovation that stays true to it's roots" judges noted.
Troutbeck Holdings / D. R. Horne & Company / Patrick Mulberry Architect / ChampalimaudDesign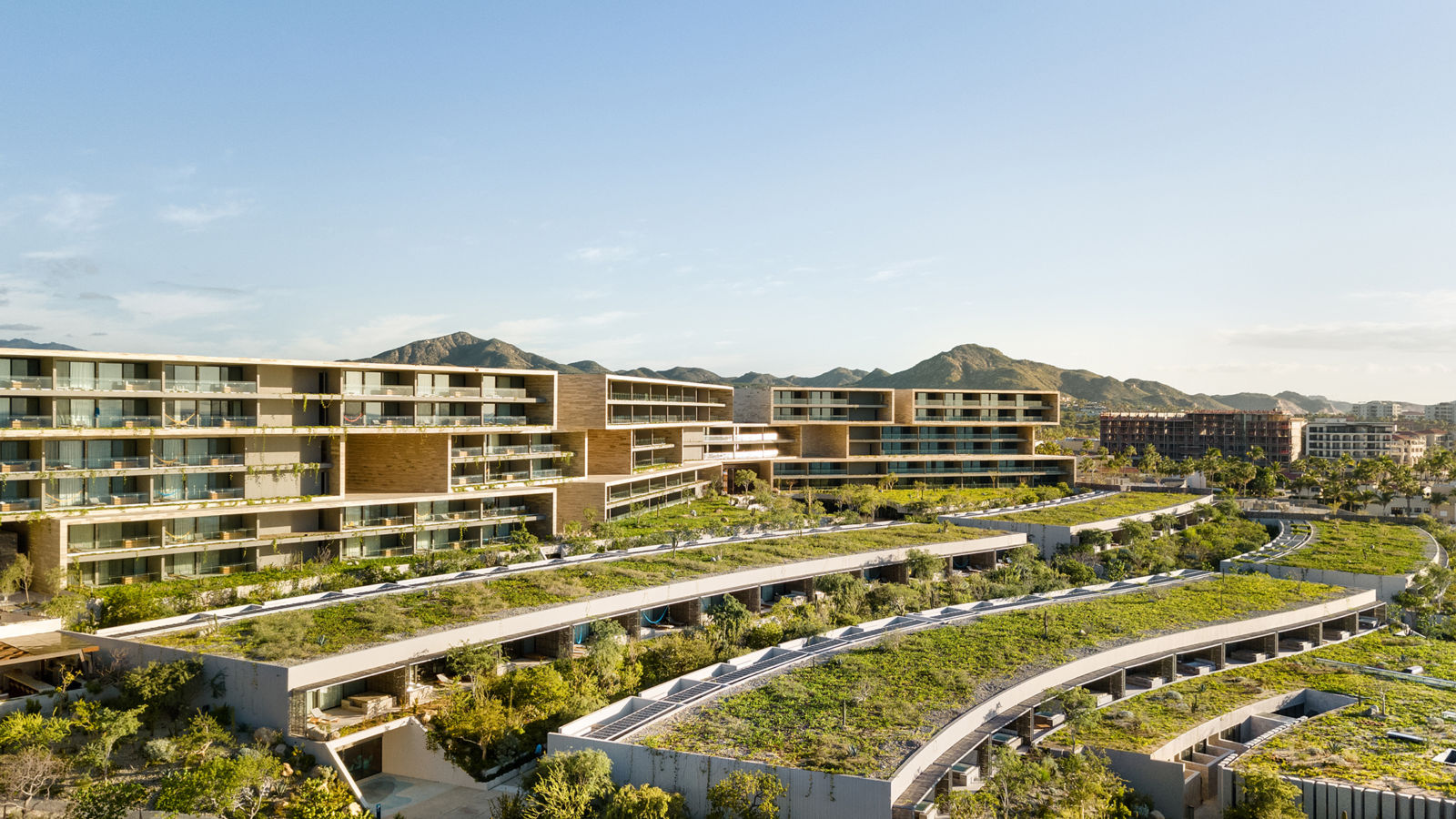 Landscaping & Outdoor Spaces
Solaz Los Cabos
Mexico
Sordo Madaleno Arquitectos' integration of the Solaz Los Cabos structure into its surroundings was achieved through the use of organic forms referencing the movement of the nearby waves, producing an attractive series of volumes that are adapted to its the semi-desert location. "This feels perfectly contextual, a stunning balance between manmade and natural," judges commented.
Marriott International / Sordo Madaleno Arquitectos
Lobby & Public Spaces
Perry Lane Hotel
Savannah, USA
Perry Lane Hotel's parlour-inspired lobby comprises a series of intimate spaces indebted to southern hospitality and alluring visuals. Trinkets selected by AvroKO throughout its rooms include moments from the eclectic to the worldly and peculiar, with the panel noting "this feels southern without being trite, it is respectful of the culture without being gimmicky or too heavily themed."
Marriott International / Flank Architects / AvroKO / NINE dot ARTS
Resort Hotel
Belmond Cap Juluca
Anguilla, Caribbean
Wrapped around the pristine white sands of a half crescent bay, Belmond Cap Juluca embodies the art of living well through a design by Rottet Studio paying homage to the landscape, sea views and Anguillan heritage. "Considering it was all but destroyed this is spectacular design work," the panel noted. "Comfortable and beautifully executed."
Belmond / HKS / Rottet Studio
Restaurant
The NoMad Restaurant at NoMad Las Vegas
USA
The soaring restaurant space within NoMad's Las Vegas outpost was inspired by the image of a private library one may find in the home of a grand family. Floor-to-ceiling shelves are filled with rows of antique leather-bound books, layers of objects and sculptures. Details include bronze and silk tiered chandeliers, an 18th century carved wood mantlepiece and an antique spiral staircase.
MGM International / Sydell Group / Stonehill Taylor / Studio Jacques Garcia
Spa & Wellness

Wellness Centre at Eaton DC
USA
Parts & Labor Design has followed a warm wooden theme inspired by the zen-inducing temples at Joshua Tree, installing a veritable forest of succulents including a living plant wall in the yoga room. The centre also features a meditation room inspired by a Buddhist temple at Green Gulch Farm Zen Centre, with Judges praising "the bold departure from traditional spa design".
Great Eagle Group / Eaton Workshop / Parts & Labor Design
Suite
St. Jane Chicago
USA
With an Art Deco aesthetic setting the predominant tone of the building and guestrooms, the Tower Suites represent a deviation – a more luxe, lavish and lush experience in the form of a decadent hideaway with unexpected twists. Judges praised the brooding scheme, commenting: "There is a moodiness, but it is not over-the-top and shows great design restraint that benefits the whole hotel."
Becker Ventures / Booth Hansen Architects / Simeone Deary Design Group
Transport
Crystal Symphony
AD Associates were tasked with designing spaces that would retain the coveted position that Crystal holds in the luxury-travel sector. From blackened steel, aviary-style structures to biophilic walls, the scheme adds a sense of variety to the bustling cruise ship experience, enabling service touchpoints to be easily accessible, practical and intuitive.
Crystal Cruises / AD Associates (Silk Kitchen & Bar, Waterside and Starlite)
Visual Identity
Hotel Peter & Paul
New Orleans, USA
Hotel Peter & Paul's visual identity spans an atypical selection of hotel merchandise, from branded matchboxes to vintage- style postcards, enamel pin badges and illustrative tote bags. Historical references to the original function of the hotel's buildings as a church, rectory, schoolhouse and convent are executed with whimsically vintage charm.
ASH NYC / Alizée Freudenthal
The New Concept of the Year Award
AutoCamp
USA
Delivering a seamless blend of thoughtful design and inspiring natural surroundings, Autocamp's charismatic 1937 Airstream Clipper camper vans offer fresh, breezy interiors which are a welcome retraction from standard cramped designs. Tented accommodation is minimalist in a way which manages to maintain a sense of luxury without sacrificing authentic experience.
Anacapa Architecture / Geremia Design
The Outstanding Contribution Award
David Rockwell
In addition to founding the acclaimed Rockwell Group and defining the aesthetic of some of North America's preeminent hotel brands and properties for close to forty years, David Rockwell's work in the fields of set design, philanthropy, education and more has seen his outstanding achievements stretch far beyond the borders of the hospitality industry.
The AHEAD Americas Hotel of the Year
The Siren Hotel
Detroit, USA
Creating a sense of memorable romance by way of a penetrating set of rich materials, sumptuous colours and vivacious textures, The Siren's details immerse guests in the history of its spirit without overindulging. Judges praised the hotel for its achievements in design and experience, commending the "eloquent interior design that hits the mark on all levels," and the hotel's contribution to a revitalisation of the area.
ASH NYC / Quinn Evans Architects