AHEAD, the Awards for Hospitality Experience and Design, has revealed its winners for its Americas edition via a four-part webcast on the AHEAD website (www.aheadawards.com) and dezeen.com as part of Virtual Design Festival. The online presentations were held in association with Global Founder Sponsor GROHE.
Santa Monica Proper Hotel won a hat-trick, scooping the prize in Guestrooms, Lobby & Public Spaces and the coveted Hotel of the Year, while urban oasis, Asbury Ocean Club, won best Resort and Greenport's new kid on the block, The Menhaden, was awarded the Hotel Newbuild trophy.
Awards Director Matt Turner commented: "In these challenging times for the travel sector, we were delighted to have this opportunity to recognise the best in hospitality experience and design. The awards provided a timely reminder of all that is great about our industry. We built on the success of our earlier AHEAD Asia webcast by pivoting to digital with an extended programme, incorporating conversations with our judges, acceptance speeches from our winners filmed across the continent, and video content from our sponsors. We were also thrilled to bring this online event to a wider audience thanks to our partnerships with Tophotelprojects and Dezeen's Virtual Design Festival."
AHEAD Americas celebrates the most ambitious, innovative and bold hotels across the region. See the full list of winners here: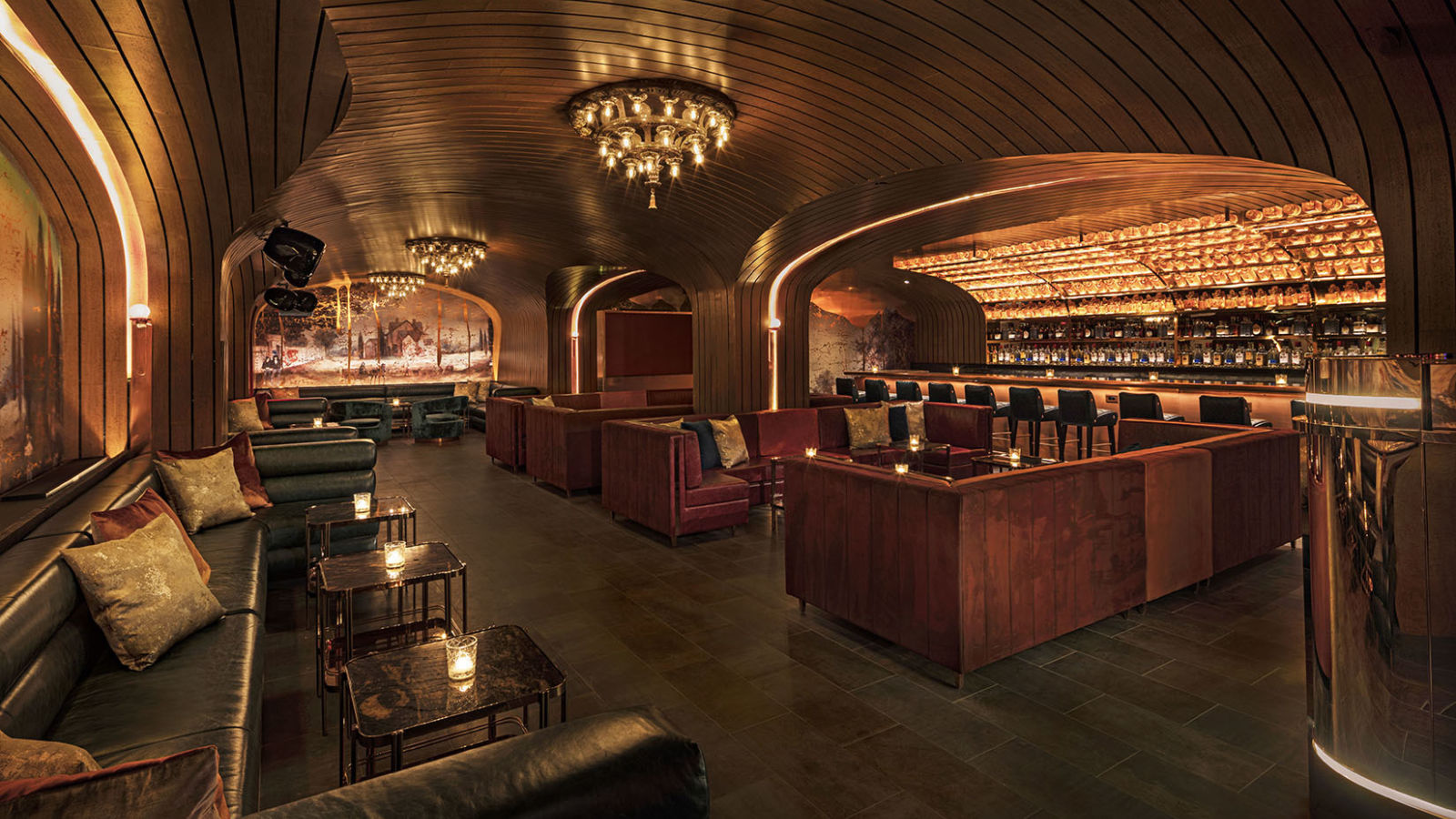 Bar, Club or Lounge
Little Sister Lounge at Moxy NYC East Village
Rockwell Group have redefined the traditional underground club by creating a sophisticated, tucked away haven in New York's East Village. Little Sister Lounge, operated by nightlife moguls Tao Group, exudes laidback luxury with its jewel-toned velvet sofas, leather banquettes and locally crafted vintage chandeliers hanging from the wood-clad, barrel-vaulted ceilings.
Event Spaces

Bode, Nashville, USA
Bode bridges the gap between Airbnb and boutique experiences by providing group travellers with open plan areas and outdoor spaces to meet, work and socialise – be that workspaces, firepits, stages or tailgates. Judges praised Bode for its "relaxed ambience" and having the "bravery for stepping out of the traditional expectations around event spaces." "It elevates a backyard vibe to high art," noted one judge.
Guestrooms
Santa Monica Proper Hotel, USA
Judges praised Kelly Wearstler's guestroom designs at Santa Monica Proper Hotel as "highly memorable, with fabulous attention to detail" and "something truly out of the ordinary". The property's first award of the night recognised a series of carefully considered design touches that combine natural elements drawn from the surrounding area with a palette of serene shades and a catalogue of sophisticated furnishings, referencing the crafts movement of California.
Hotel Conversion
Escondido Oaxaca, Mexico
Grupo Habita's Escondido Oaxaca took home the conversion award for its skilful approach to reimagining and fusing a brutalist tower with a traditional 19th century Mexican home. Creating a boutique experience described by judges as "a breath of fresh air for the hotel world", architecture by T.A.X and interiors by Decada were praised for their "simplicity and warmth."
Hotel Newbuild
The Menhaden, Greenport, USA
"Absolutely charming, with a style that is timeless and layered," said judges of The Menhaden, a 16-key boutique on the edge of Greenport NY's Peconic River. Drawing from the area's fishing heritage for a quaint take on modernist minimalism, the project was praised as "a fresh little jewel in a world of heavy-build, big-box hotels."
Hotel Renovation & Restoration
Mauna Lani, Hawaii, USA
In reimagining Hawaii's Mauna Lani, designers Meyer Davis took the property's expansive open spaces and refined them into more welcoming and intimate moments. "A joyful use of locally-inspired materials and vibrant colours" said one judge. "Clean, crisp and concise - the studio has done exceptionally well in surgically breaking down the larger portions."
Landscaping & Outdoor Spaces
AUREA, Nicaragua
'Low impact and highly respectful" was the verdict on Nicaragua's AUREA, the Carlos Ayala + Partners and Ruticel Cabrera-designed Emerald Coast surf break. Commended for its skilful integration within a delicate landscape, as well as the imaginative use of natural materials, the landscaping portion of the project incorporates sustainable elements including rainwater re-use and natural shade from existing trees.
Lobby & Public Spaces
Santa Monica Proper Hotel, USA
Combining "memorable materials and fabulous attention to details" Santa Monica Proper Hotel's second award of the night went to the project's public spaces, which are "one powerful moment after another, carefully composed within a spectacular hotel," according to judges. Kelly Wearstler's design of the hotels' public portion has created "spaces that stop guests in their tracks to pause and appreciate," said another.
Lodges, Cabins & Tented Camps
Islas Secas
Spreading its offer across 14 islands on Panama's Islas Secas archipelago, the remote, barefoot luxury of Islas Secas was a hit with judges, who highlighted the efforts of architects Hart Howerton in preserving the site's delicate ecosystem and balancing sensitivity with sophistication.
Resort
Asbury Ocean Club, Asbury Park, USA
A surprise urban winner in the Resort category, where it competed with beachfront and rural properties, Asbury Ocean Club in New Jersey emerged as the winner of a strong shortlist. Praising the "courageous execution" of designer Anda Andrei, judges highlighted the property's role in revitalising the surrounding community, and praised it for "bringing new thinking to the category."
Restaurant
San Morello at Shinola Hotel, Detroit, USA
Set within the debut hotel project from luxury goods brand Shinola, San Morello's combination of natural light, "exquisite FF&E" and "incredible project coordination," was a hit with judges, who further praised the space's ability to function equally well day or night. Designed by Gachot Studios, the all-day Italian restaurant is defined by its large store-front window, and the vibrant catalogue of patterns and textures on show.
Spa & Wellness
Equinox Hudson Yards Club & Spa, New York, USA
Whilst the wider Equinox Hotel is a shining testament to 21st century wellness design, the hypermodern Hudson Yards project's Joyce Wang-designed spa stood out in the Spa & Wellness category for its "series of strong, mood-enhancing architectural spaces" and its combination of urban sensibilities with serene visuals.
Suite
Su Casa Dorado Beach (A Ritz Carlton Reserve), Puerto Rico
Created by Champalimaud, the suite at Su Casa Dorado Beach was named winner for its "clear point of view that reflects the uniqueness of the property" and "a combination of elegance, sophistication and subtlety." Judges noted the "attention to comfort" and declared it "a luxurious private retreat with a residential feel."
Transport
Celebrity Flora
Sailing in the Pacific and Galapagos Islands, the DeHoop Shipyards-built Celebrity Flora took home the transport award for its intimate atmosphere and condensed thinking – refining the brand's typical large-scale approach into a boutique equivalent.
Visual Identity
Sister City, New York
"Clean, concise and clever – all with a big dose of fun," said judges of the Atelier Ace-designed Sister City – a refreshing back-to-basics offshoot of Ace. Taking home the Visual Identity award for its graphics, online presence and use of art and signage, judges praised the design's willingness to break the rules and smart detailing. Smart features prompted judges to ask "Why didn't anyone else do that before?".
New Concept
Nayara Tented Camp
Celebrating innovative new ideas in hospitality, the New Concept award goes to Nayara Tented Camp – a collection of 18 luxury accommodations in Costa Rica's Arenal Volcano National Park, which judges declared "a simple and straightforward definition of new luxury." Seamlessly blending indoor and outdoor, the hybrid experience was further commended for its harmonious relationship with the protected natural surroundings.
Santa Monica Proper Hotel, USA
Declared by our judges as the region's best new hospitality experience and design, Santa Monica Proper Hotel takes its total award count to three, and tops the diverse shortlist with an elegant, inspired effort. According to the panel: "It exceeds the expected environment of a hotel in a very chic manner with beautiful levels of comfort. Every item is curated with passion, as an art piece – the mixing of vintage and modern make this a unique and very stylish hotel for the sophisticated traveller."