AndBeyond and Fox Browne Creative were amongst the biggest successors on the night, taking home a total of four awards for their projects, Ngala Treehouse and Sossusvlei Desert Lodge. Moroccan palace The Oberoi Marrakech also won two trophies, one for best Resort and the other for its Landscaping and Outdoor Spaces, while boutique interior design studio, Stickman Tribe, claimed two prizes for its redesign of The Westin Dubai Mina Seyahi's guestrooms and restaurant.
"In these challenging times for the travel sector, we were delighted to have this opportunity to recognise the best in hospitality experience and design. The awards provided a timely reminder of all that is great about our industry," commented Awards Director Amy Wright.
"We built on the success of our earlier AHEAD Asia webcast by pivoting to digital with an extended programme, incorporating conversations with our judges, acceptance speeches from our winners filmed across the continent, and video content from our sponsors. We were also thrilled to bring this online event to a wider audience thanks to our partnerships with Tophotelprojects and Dezeen."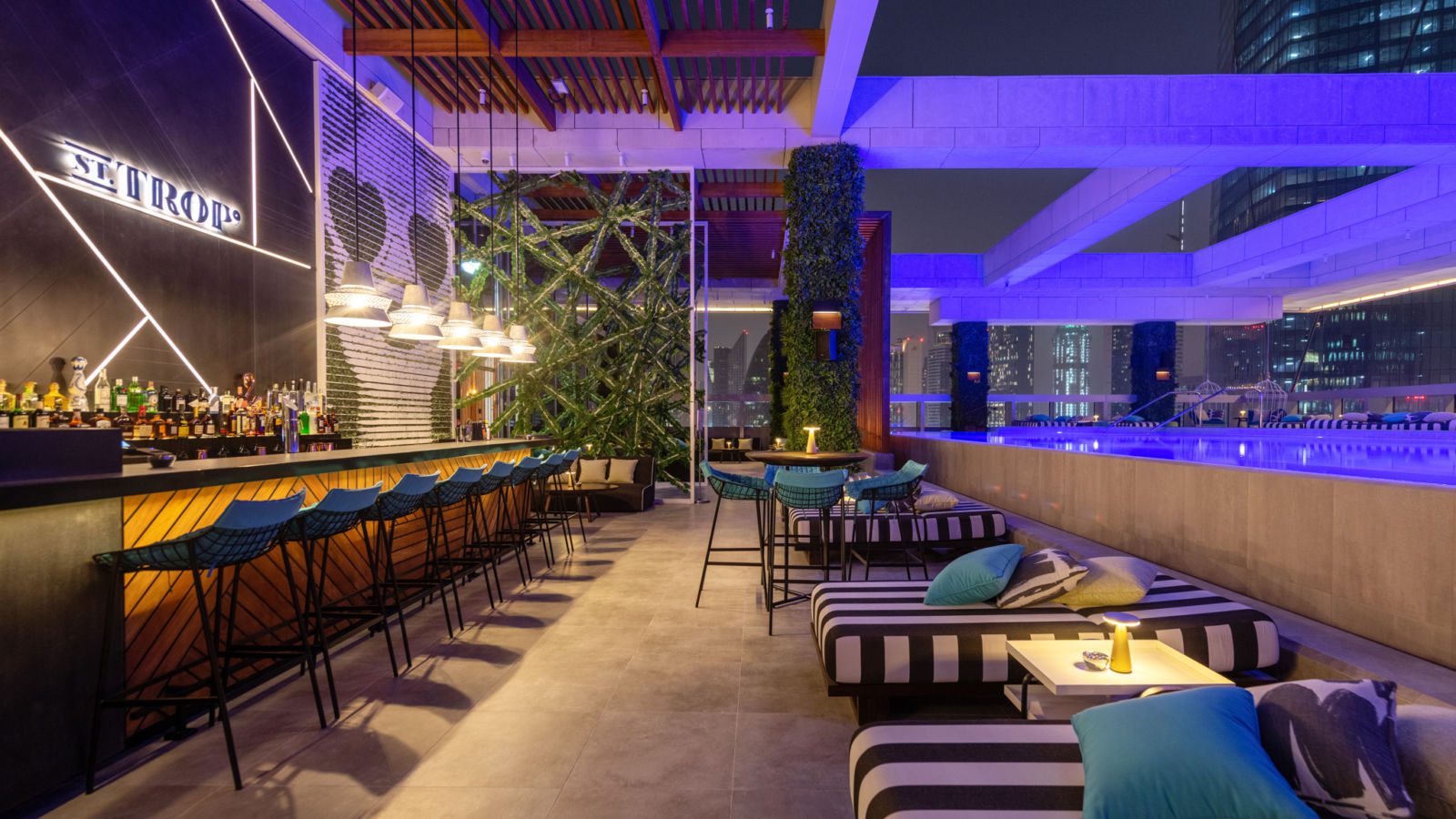 Bar, Club or Lounge

St. Trop at Waldorf Astoria Dubai International Financial Centre, UAE
Rooftop lounge St. Trop brings a slice of the French Riviera to Dubai's financial hub, channelling a playful style and yacht-like ambience. Through a combination of transformative furniture, aqua-coloured fabrics, bold patterns and ambient lighting, LW Design have successfully executed a 24-hour, multifunctional space that doubles as a relaxed pool deck by day and a vibrant party bar by night.
Guestroom
The Westin Dubai Mina Seyahi, UAE
The judges thoroughly enjoyed the eclectic personae that Stickman Tribe have manifested in the redesigned guestrooms at The Westin Dubai Mina Seyahi. Situated in opposing sides of the hotel are the Penelope and George rooms – Penelope features 'killer curves, daring patterns and quirky colour palate', whilst George 'exudes effortless luxury by embodying classical details in a contemporary form'.
Hotel Newbuild
ME Dubai, UAE
ME Dubai at Opus was praised for its 'cohesive design approach', with judges commending Zaha Hadid Architects for the consistent look and feel of the entire development, from the exterior architecture through to the interior lobby seating, and even down to the guestroom washbasins.
Landscaping & Outdoor Spaces
The Oberoi Marrakech, Morocco
Described by judges as having a 'European aesthetic of great beauty', The Oberoi Marrakech is nestled within 28 acres of carefully landscaped gardens, filled with citrus trees, olive groves and punctuated by water features that 'seem to stretch out towards the Atlas Mountains'.
Lobby & Public Spaces
Vida Hotel Emirates Hills, Dubai, UAE
With simplicity and relaxation at the forefront of the designer's mind, a carefully selected material palette of rich, layered textures in neutral colours were chosen to give this award-winning lobby some 'homely comforts'. The judges agreed that Lulie Fisher's lobby design was 'the perfect delivery of a client's brief'.
Lodges, Cabins & Tented Camps
andBeyond Ngala Treehouse, Timbavati Private Game Reserve, South Africa
Peeping out over the tree canopy and comprising of five vertically connected platforms, each offering different views of Kruger National Park. andBeyond Ngala Treehouse has an entirely self-sustainable structure thanks to off-grid technologies such as its own solar power supply, grey water collection and 'bio-rock' sanitation system.
Renovation, Restoration & Conversion
andBeyond Sossusvlei Desert Lodge, Namibrand Nature Reserve, Namibia
Originally opened two decades ago and given a top-to-toe refurbishment in order to create something more contemporary, timeless and appropriate within its arid landscape, andBeyond Sossusvlei Desert Lodge impressed judges with its subtle faceted surfaces, which 'echo the mountainscape' both inside and out.
Resort
The Oberoi Marrakech, Morocco
Judges commended all areas of this resort, in particular its design, which takes cues from classic Moroccan architecture. From the 'on-brand rooms', to the 'intense detailing of the public spaces' and the 'tranquil and serene gardens', the judging panel agreed that The Oberoi Marrakech ticked all the right boxes for a successful resort hotel.
Restaurant
Mina's Kitchen at The Westin Dubai Mina Seyahi, UAE
Stickman Tribe's second win of the night was for its redesign of the The Westin Dubai's main restaurant space. Housed in a vast space with a capacity of 603 pax, the judges applauded Mina's Kitchen for its 'big, bold and beautiful design', and agreed that it has 'successfully stood out from Dubai's crowded hotel restaurant scene and become a strong destination outlet'.
Spa & Wellness
Amani Spa & Wellness at The Houghton Hotel, Johannesburg, South Africa
Located in the heart of an urban resort, the Amani Spa is a refuge from the energetic public spaces of The Houghton Hotel. South Africa and Dubai-based firm dsgn took inspiration from Johannesburg's indigenous fauna and flora to develop its colour palette for the spa, which is carefully linked to outside terraces featuring curvaceous pools that camouflage themselves into the surrounding landscape.
Suite
Palais Ronsard, Marrakech, Morocco
The judges congratulated interior designer Gil Dez for creating 'a whimsical and stylish suite experience' that captured Marrakech's colourful design heritage 'in a playful yet glamourous way'. Palais Ronsard's enchanting suites left one judge 'captivated' and begging for an invitation to stay.
Visual Identity
Zannier Hotels Sonop, Namibia
The contextually inspired branding of Zannier Hotels Sonop struck a chord with the judges, who all agreed that the brand has a 'finesse for storytelling'. They enjoyed the cheeky illustrations which, in line with the camp's sophisticated design, propel the guest back to the life of a 1920s explorer.
New Concept
andBeyond Ngala Treehouse, Timbavati Private Game Reserve, South Africa
AndBeyond and Fox Browne Creative claimed another prize for the mesmerising Ngala Treehouse, which left judges stating, 'this is where hospitality should be heading'. The treehouse offers a unique experience that integrates well within its surroundings and leaves a minimal footprint, using 'a seamless synergy' between the architecture and interior to immerse guests in the South African bush.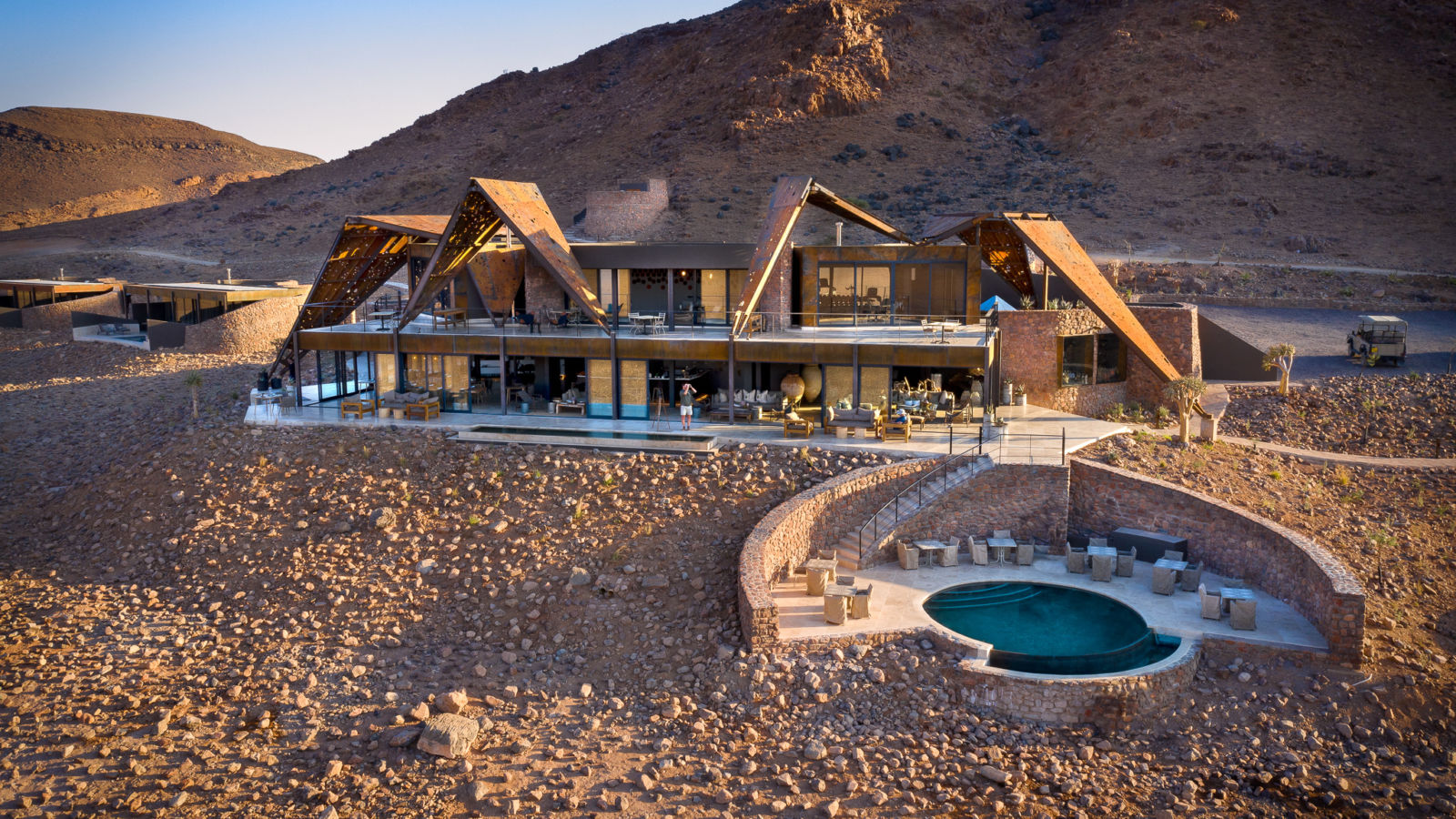 AHEAD MEA Hotel of the Year
andBeyond Sossusvlei Desert Lodge, Namibrand Nature Reserve, Namibia
The most coveted award was given to andBeyond Sossusvlei Desert Lodge, which 'sits poetically' within Namibrand Nature Reserve – a 12,715-hectare expanse deep in the Namib Desert. One judge described the property as 'a truly sustainable reuse of an existing building' and said it should 'set a precedent of inspiration' for similar development opportunities across the globe; the lodge doesn't just fit in aesthetically, but also respects its surroundings by relying purely on solar power to operate.